The treasures of Darkling Wood....
Eyes that are sparkling, teeth that snarl bare;

They come out in the evening daylights glare.

Her friends of the woodlands she knows will be there.
Voilet Darkling is the doppleganger for New Zealand designer Louisa Richwhite. Her beautiful creations are honestly some of the most amazing pieces of jewlerry i have seen.
Not only does each piece have a uniqueness about them they scream both classic and avant garde at the same time.
This is one of my favourite of her current ring collection.
Black Tarsier with Bow
(Black Rhodium Plated Skull, Rose Gold Plated Shank and Bow)
If you are happy with the rose gold you are looking at about $330 but if you decide you would prefer the black rhodium plated with 18c gold with 18c rose gold plated shank and bow you are looking at $4,446. Although expensive i must say, if i had the money I wouldn't say that this ring is not worth it.
Not only does the kiwi designer do exquisite ring designs but also her other jewelry also shows the same amount of craftmenship and attention to detail.
Black Bow Earrings, Rose Gold Spider
Sterling Silver, Black Rhodium Plated Bow
Sterling Silver, Rose Gold Plated Spider
Again you may choose to have the earrings plated in 18c gold.
It's a moonless night but the stars are bright.

In the manor of darkling not a flicker of light.

Enfolded in darkness, she's escaped to the woods.

Safe, warm and cosy wrapped up in her hood.

One may follow her footsteps but try as you might.

A mystery surrounds sweet Violets flight.

Some say its a lover, but don't be so sure-

Maybe it's the creatures of the forest floor.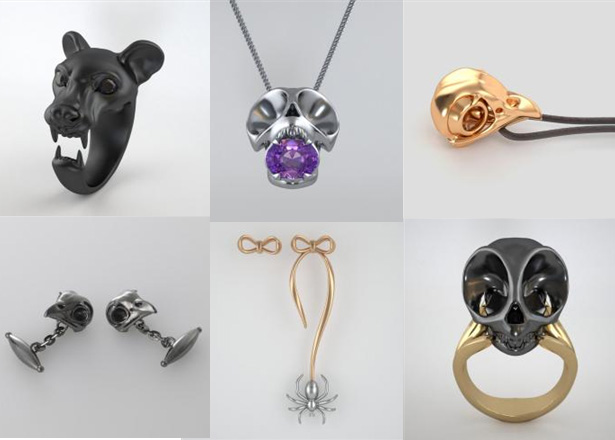 As you can see by her poetry and magical jewelry collection, Louisa was inspired by 'darkness' and all things nocturnal. This collection was launched in March/April 2010 and is a wonderful, cutting-edgy first collection.